Leonora from Yellow Heart Art and Illy from Much Love, Illy hosted a great swap this summer. It's called the Summertime Arm Party Swap. We all got paired up with a partner and then we handmade bracelets for them based on their favorite colors and things they liked!
I was paired up with the lovely Jennifer over at Finding My Way in Texas, and let me tell you, I got a fantastic partner! The pieces she made for me are so beautiful, I am so obsessed with them! I've been wearing at least one of them a day :)
Here is the lovely package she sent me:


How cute, right?
Here are the incredible bracelets:
Just perfect!
I've got to say, this has been one of my favorite exchanges to do, because I got to make something for it!
Hopefully, Leonora and Illy will throw another one soon!
Make sure to go check out Jennifer's
blog
,
twitter
,
facebook
, and
pintrest
!
Thank you Jennifer for the cute bracelets, and thank you Leonora and Illy for hosting!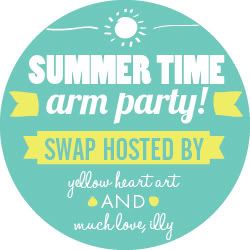 xoxo,
jamie brooke